The Indianaut Chronicles #2
A Conversation With Ranjit Barthakur (Founder, Balipara Foundation)
Introducing, 'The Indianaut Chronicles', a fortnightly interview series where we sit-down with some of the most accomplished entrepreneurs, CXOs, leaders, innovators, and visionaries to figure out what makes them tick and how they're spearheading the next wave of Indian innovation.
---
Ranjit Barthakur is the founder of the Balipara Foundation, which drives community-based conservation and livelihoods in the Eastern Himalayas through cutting edge proprietary concepts such as 'Naturenomics™' and 'Rural Futures' for sustainable social change and thriving habitats.
He is a social entrepreneur with over 40 years of experience in both the public and private sectors in the areas of IT, hospitality, FMCGs, sports, and mainstreaming sustainability practices in various multi-national organizations.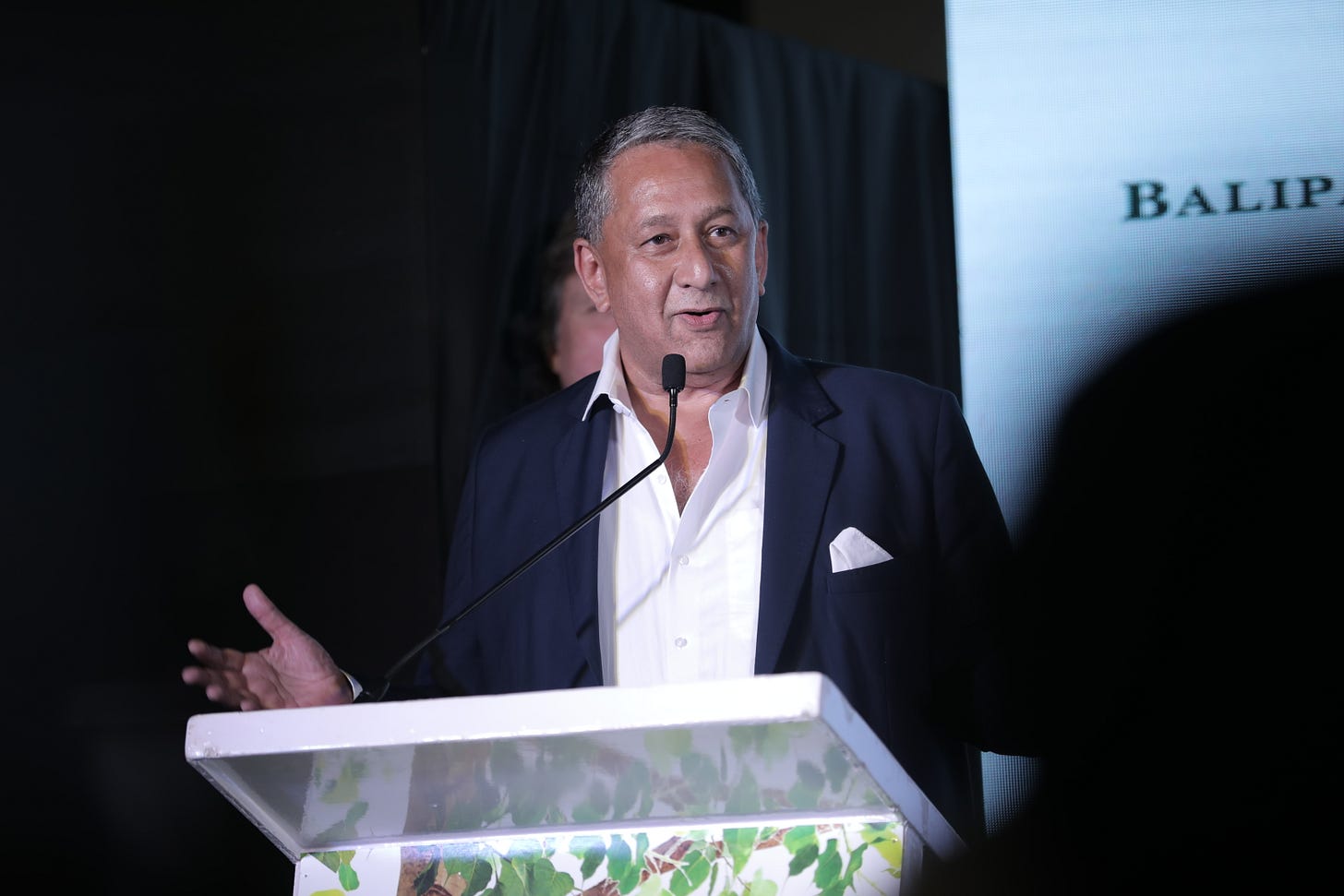 Falguni: What is Balipara Foundation's 'Indianaut' origin story?
Ranjit: Balipara Foundation was started in 2007 with the idea of ecology as an economy. Our ethos is reflected in our proprietary concept of Naturenomics™ that represents interdependence between ecology and economy. Since the destruction of nature is driven by economic interests, we realized that to make an impact, we couldn't just erect parks and fences, we wanted to reinvent how people perceive nature and how people value ecology, to drive change across communities and businesses for the better conservation outcomes.  
To fix the problem of degrading environments at the source, we had to go back to economics and fundamentally challenge and interrogate some of the fundamental premises of economics itself – i.e. that nature only has value when people can consume it. Rural Futures and Naturenomics™ challenge the faulty premise driving development in our country today, that there's a zero-sum game between development and environment. What we have been able to demonstrate is that development for communities goes hand in hand with healthy ecosystems; people can earn quality livelihoods, and be self-sufficient while restoring ecosystems and enhancing environmental health. 
Initially, there was a lot of trial and failure. We learned that the knowledge possessed by indigenous communities would be our biggest asset. They offered valuable insight into the landscapes we were working with that we could have never known. We also realized every single action had to be driven by the communities who lived the closest to vulnerable ecosystems. They knew these ecosystems best and were connected to them – whether through livelihoods or cultural practices – which meant they experienced a sense of ownership over these ecosystems that outsiders did not. 
These realizations led us to our Rural Futures model, which today has restored over 4000 hectares of forest land and nurtures 5 million natural assets.
Falguni: In a Post-COVID world, the idea of 'Ecology in Economy' holds a stronger foothold. As conscious capitalism rises do you think the corporate giants would proactively shift to a more symbiotic and sustainable business model? How? 
Ranjit: Corporate giants are already proactively shifting towards symbiotic and sustainable business models – India has to catch up. Global household names like Hindustan Unilever have their own sustainability manuals governing their supply chains. Even companies we associate with deforestation or carbon emissions are making this transition – Cargill has its own zero-deforestation pledge, BP is investing in renewables, Shell in afforestation. While the efficacy of these initiatives is debatable, the point is corporate giants are facing pressure to be sustainable from multiple directions from investors down to clients and consumers. 
CSR is the most basic level at which this is happening today – most firms are moving towards an ESG perspective today and not merely through a philanthropic approach. For many, it's a matter of managing risk exposure and climate and reputational risk mitigation plans are orienting firms towards stronger sustainability practices in their supply chains. Natural disasters, for example, cost firms about $200 billion annually – and this amount is expected to keep rising, against risk management strategies that come back to better sustainability practices across supply chains. Some of these sustainability practices are being developed in-house through sustainability manuals, but there are also pledges such as Business for Nature or zero deforestation and sustainable palm oil pledges that offer support via best practice sharing to firms trying to build sustainability across their supply chains. Carbon credit markets and emissions regulations have both moved big emitters to invest in forest restoration or carbon sink creation as a means of meeting their obligations. Over the next few years, we will also see businesses incorporating green accounting, measuring their environmental impacts monetarily as a means of identifying their business sustainability in the long run.
Falguni: How does the idea of 'Naturenomics™' work on-ground?
Ranjit: The idea of putting ecology back in the economy, which is the fundamental principle of Naturenomics™, led us to Rural Futures which is a combined model of payment for restoration and sustainable business/livelihoods creation to build rural indigenous livelihoods that are pegged to the restoration of ecosystems, not their destruction. 
We work with existing community institutions such as Joint Forest Management Committees to strengthen their capacity to manage forest resources and to manage the restoration that takes place. Communities work on restoration and receive a stipend for their work – payment for restoration. In the buffer zones of these forests, we create agroforestry plots that offer livelihoods and food security options while supporting biodiversity. These are developed into sustainable businesses alongside bamboo, mushrooms, and mindful tourism and these enhanced natural capital values generate significant socioeconomic mobility for communities. Most communities working with us experience a 40% increase in income in the first year and by the third or fourth year, can expect to see their incomes more than double. 
Falguni: Triple bottom line (TBL), in economics, believes that companies should commit to focusing as much on social and environmental concerns as they do on profits. Many economists consider that there is a dire need to start a dialogue on deploying this approach in businesses. How do you ensure the same in your organization?
Ranjit: The Balipara Foundation works directly at the intersection between people, environment, and "profit" – or in this case, livelihoods. The Rural Futures model is a direct attempt to build a robust triple bottom line approach for rural livelihoods. In terms of our operations, we do ensure that whatever we plant is native to the region and is, moreover, locally sourced or grown as far as possible. We ensure as much of the value chain is plugged into investing in the local communities and in building up the local economy.  
In the long term, this natural capital can be sustainably liquidated, enabling communities to become self-sufficient, accessing and delivering universal basic assets & services such as healthcare, education, renewable energy, and access to water. 
Falguni: Amidst the pandemic, what opportunities has your model created for youth coming back to their villages in the North-east?
Ranjit: For youth returning home from cities, the Rural Futures program offered an opportunity for employment and stability that plugged a gap that had been torn wide open by the COVID-19 lockdown. The reforestation program is relatively easy to participate in and offers an immediate stream of income, which was crucial for returning workers who had lost their jobs or more as they returned home. It also allowed for an easy transition into work in their home towns and villages.
Falguni: Recently, the controversial EIA policy was passed, there has been a lot of debate going around that, what are your thoughts on the same? How can we build a sustainable model within the business nexus which ensures that the principle of the circular economy remains intact?
Ranjit: The draft EIA notification 2020 is a step backward for India in the way it undermines protections for fragile ecosystems and public accountability mechanisms, as well as prioritizing business interests instead of seeking interdependence between business and nature. 
If we want true circularity we need to go beyond merely assessing negative impacts, but use tools to encourage businesses to create positive impacts with their value chains. A 21st century EIA has to place a premium on projects which create positive environmental and social impacts, as much as mitigates negative impacts. 
Western firms are already moving towards this model by developing sustainability plans and manuals to create positive social and environmental impacts – fair wages across their value chains, using renewables to power their operations, maximizing energy efficiency across their infrastructure, investing in ecosystems restoration, and sustainable natural resource management and use. A new EIA is one way of encouraging businesses to move towards this; introducing green accounting and valuing ecosystems in company accounts is another, by incorporating environmental and social costs that are otherwise externalized. A business responsibility index that weights the added value environmental and social responsibility brings for investors is also another positive route towards encouraging circular economy.
Falguni: What are your future plans?
Ranjit: Our goal is to plant 10 million natural assets over the next three years, reaching over 30,000 people and generating over INR 100 crores in natural capital value for communities. We plan to bring the Rural Futures model to communities across the North East, rebuilding fragmented ecological corridors while creating sustainable livelihoods for communities through payment for restoration, agroforestry, bamboo, weaves, mushrooms, and mindful tourism.
We also aim to see our experiment at the Rural Futures lab, in sustainably using natural capital to deliver universal basic assets to a community, begin to pay off. Within the next few years, we expect that the earnings from agroforestry, bamboo, and weaves will be high enough for the RuFu® lab community at Baligaon in Assam to reinvest in energy access through solar power, building up local educational infrastructure, and improving healthcare access. 
Falguni: What one piece of advice would you like to give to the aspiring 'Indianauts'?
Ranjit: My advice would be to build sustainability into your value chain from the root: good ecology is good business!
---
Falguni Chaudhary is a PR specialist and communications strategist. She has previously worked as a consultant for startups in the AI, sustainable fashion, ed-tech space, and was previously a contributing editor at NewsD, Youth Incorporated Magazine, and Feminism in India.